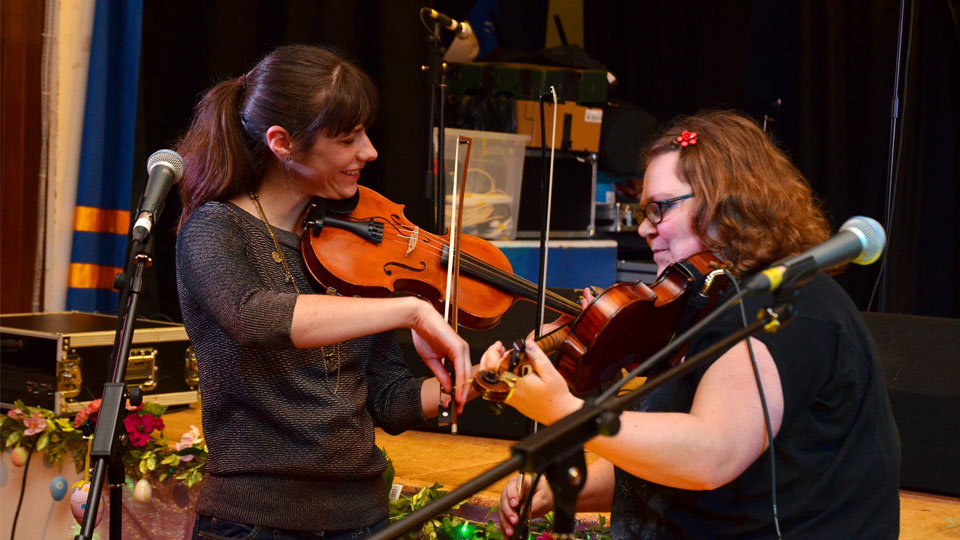 Salt and Sky are a Cornish folk band. They perform in many venues, all the while maintaining the rustic heartfelt roots of Cornwall. Read on to discover more.
In 2013, Emma Packer and Lizzie Pridmore started their own Cornish folk band called Salt and Sky. Armed with nothing more than two fiddles and a pair of vocals, their music continues to reach out across local pubs and musical events all over Cornwall.
The two met each other through Bagas Crowd, a musical community group that means 'Fiddle Group' in Cornish. Bagas Crowd still continues to be an inspiration for their music and they still play regularly at their events.
"Forming the band almost fell together without any real effort," Emma says. "We were both driven to do something together as a creative outlet. It's when you meet a likeminded soul like that you really click."
After playing together at Aberfest, a festival of friendship between Cornwall and Brittany, over the course of one weekend in France, it's clear that the duo have never looked back since.
"We went over to Brittany with Bagas Crowd who were performing at a couple of fest noz and community events there," Lizzie explains. "We were staying with a lovely Breton family and shared their child's bedroom for the weekend."
It was over the course of this weekend that their creative spark really started tofly and the decision to become a folk band was made.
"It's hard to resist the kind of music you can make with somebody like that," Emma adds.
Their music ranges from slow and heartfelt, to fast and upbeat and you can count on their performances to get you singing, dancing or even just stomping your feet along to the music: "We like to play songs that people never usually hear. When people sing along it's a really magical moment and there's such a feeling of warmth from being on the stage and being with the audience, because in that moment, you're all in it together."
"Our music is really portable," Lizzie says, "The freedom to be able to play anywhere is really good for us. We've played in carparks and on beaches and we've even played on a train on the way to St Germans before."
"We just want to play to different people in different places and take Cornish music to new corners, maybe unexpected corners. We're not scared of being in unusual places. I'd love to take Cornish music out of Cornwall and see what happens," Emma says.
What inspires the two band members the most is the sessions they go to which are run locally, where they are free to play creatively and come up with something original. Lizzie says: "Something about the freedom of that environment is really inspiring, being around a supportive and encouraging group of people who gave us opportunities to play really early on is quite important to our music."
Established folk singer Nancy Kerr is also an inspiration for Emma and Lizzie: "We have a deep and abiding love for Nancy Kerr," Emma explains. "She wrote a tune about Cornwall which was one of the first tunes that we learnt together and we still play it now."
The energetic duo try to include the Cornish language in their music wherever possible, but they are still learning, so the majority of their songs are still sung in English.
"The Cornish language in our songs more because it's part of the music as well. While the Cornish language is growing there are still a lot of people who don't understand it so it's good to have a balance of both."
"We do actually have a whole song in Cornish that we like to play," they say. "Once we explain to people what it's about if they don't understand they respond to it very well and they really like it."
"The nice thing about Cornish music," they add, "is that it's growing and it's growing at an extraordinary pace and nobody can stop it. The more you allow it to develop the better it is."
The two describe their own music as traditional folk music being played untraditionally. "Our music is never predictable," Lizzie explains. "With just two fiddles and voices we have to work harder to make each arrangement sound unique."
"Although we're very tight as players now," Emma relates, "I think there's a looseness to the way that we play in that we do surprising things with our arrangements. While I enjoy playing the same melody over until I'm certain I've got it, Lizzie always throws something quite crazy in the mix. She will push me to try and expand what I'm doing, try something or get me to try something a bit more creative with the tune I'm already playing."
This summer, the folk duo are set to perform at various shows and events in Cornwall. Having already appeared at the Federation of Old Cornwall Society's Summer Festival on 27th June, they will also be performing at the Penzance Folk Club on 12th August. Any guests – whether regular or new – are welcome to come along.
If you would like to find out more information about Salt and Sky then you can access their website here. Alternatively, you can like their page on Facebook or follow them on Twitter to keep up to date with all their upcoming news and events.
Photographs courtesy of Dave Atherfold.