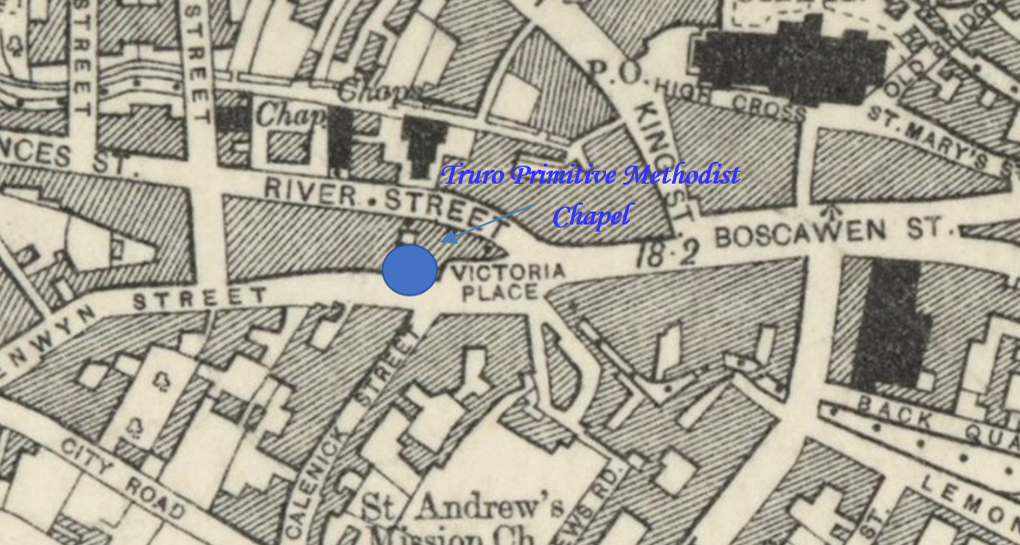 Truro Primitive Chapel was built in 1878, in Kenwyn Street, about fifty years after the denomination first appeared in Truro. This profile has been compiled by Tony Mansell.
1827: "The Primitive Methodists are now holding camp-meeting in various parts of this county. On Sunday last, several thousand persons assembled of these occasions, on a common within three miles of Truro, on the Redruth road, when discourses were delivered different preachers." (North Devon Journal – Friday 14 September 1827)
1827: Richard Spurr licenced a place for worship in Walsingham Place, a mission hall, possibly a wooden building.
"The Connexion has for long time past been worshipping in the Public Rooms; but great inconvenience has been experienced in carrying the services." (Western Morning News – Tuesday 16 July 1878)
1875: Site acquired in Kenwyn Street for new chapel.
1878: Built chapel in Kenwyn Street.
1878: "New Primitive Methodism at Truro. Yesterday the memorial stones of a new Wesleyan Methodist chapel at Truro were laid in the presence of a large concourse of spectators… The building, which will be in the early English style, will be 50 feet 3 inches long and 30 feet wide on the interior, and will accommodate 326 adults, 230 on the ground floor and 90 in an end gallery. The front will constructed of granite, and above the entrance door will be a large rose window. The staircases will be built on the outside of the body the building, and furnished with hipped roofs, ornamented at the eaves. The seats will be constructed with solid ends and reclining backs, and in place of a pulpit there will be a rostrum. The front of the building will be fenced with granite pillars with moulded caps, and ornamental gates and railings of cast iron. The architect is Mr. J. Wills, from Kingsbridge and Victoria Chambers, Derby; and the builders Messrs. Julian and Son. Truro. It is estimated that the building will cost £948, exclusive of proposed schoolroom, etc., which are not included the present contract…" (Western Morning News – Tuesday 16 July 1878)
1896: There seems to have been a move to sell the chapel to the City Mission but it did not happen.
1905: Truro Primitive Methodist Chapel was closed for necessary alterations. Incandescent light was installed and the pulpit had been re-positioned. Efforts were being made to build a schoolroom. "Royal Cornwall Gazette – Thursday 30 March 1905"
1913: Whether due to dwindling funds or to finance a new project, Truro Primitive Methodist Chapel received a grant from the Connexion.
1939: The chapel and society closed.
1941: The City Mission rented the building.
The property was sold and became Dowty's Furniture Store and then a restaurant.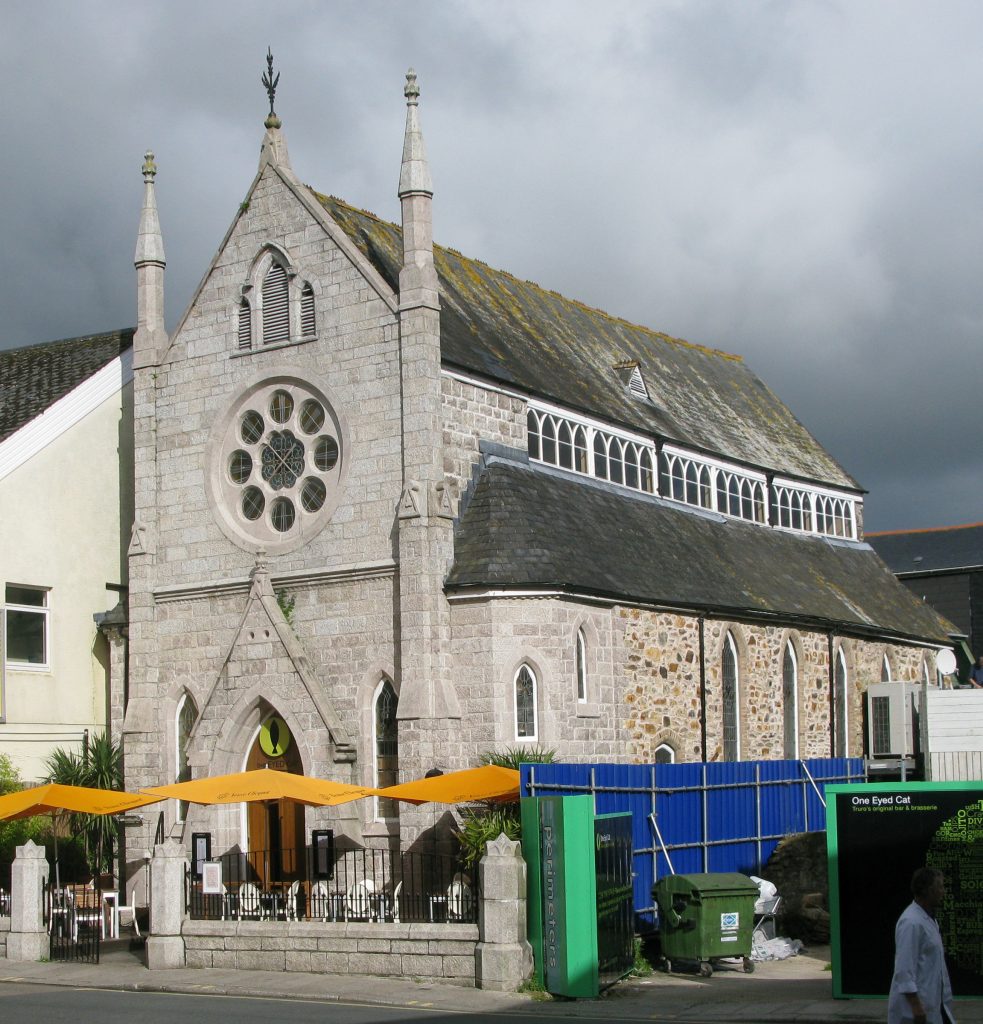 The building in use as a restaurant