Leedstown
Categories
Place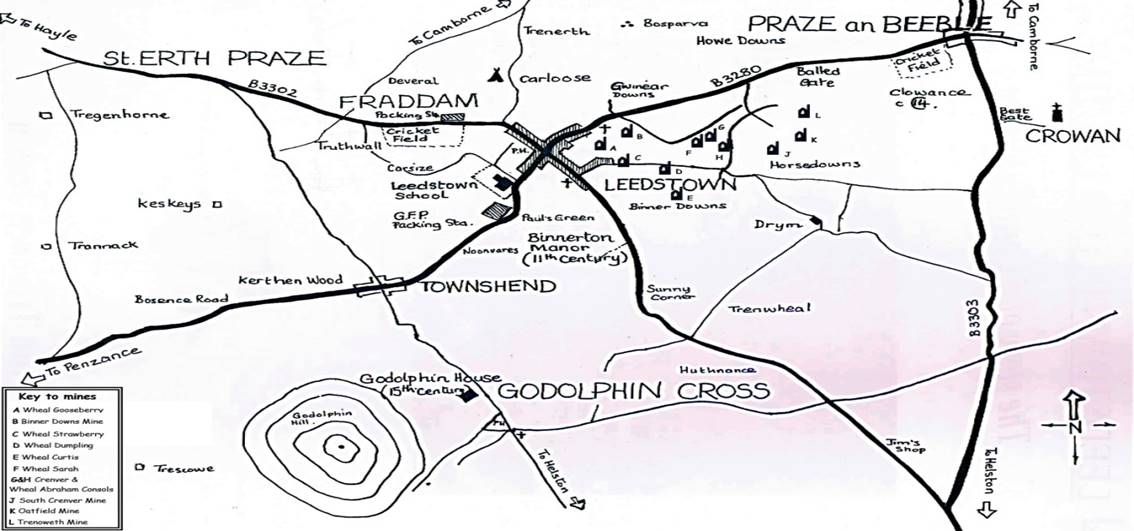 In this article on Leedstown Paul Phillips of Helston tells the story of a relatively well-known village where he spent his formative years.
In the grand scheme of things Leedstown is a comparatively young village.  Its "Square" forms a crossroad on the B3302 Helston to Hayle Road and the B3280 Praze-an-Beeble to Marazion Road. It is situated between two well-known and influential Cornish family estates, both of which held pockets of land in and around the village as we know it today.  One of these estates is Clowance, now a timeshare complex but formerly one of the seats of the St Aubyn family. It was here in the Second World War that Prisoners of War and Displaced Persons were accommodated.  The other important local estate is Godolphin which is very close to Townshend.
In view of its location, Leedstown may be said to be the "stepping stone" to everywhere.  If you travel north-ish you are led to Praze, Camborne/Redruth and the A30 spine road.  Eastward takes you to Helston and the choice of Falmouth or the Lizard peninsula.  A southerly direction will take you through nearby, Townshend, Marazion and Penzance, where your journey could end at lovely Land's End. A westward journey through nearby Fraddam will take you to Hayle, St Ives and out to the north coast with its infamous attraction, Hell's Mouth, the scene of many a tragic loss of life.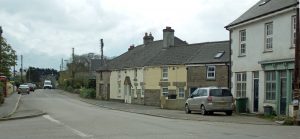 The Road to Helston
Whilst there is no trace of mining in the immediate proximity of the village there was an abundance of such activity a mile or so away as can be seen from the map where I have indicated the most productive and well-known mines.  These produced both tin and copper and their production figures are available in many books and, of course, on-line.  It is obvious that Leedstown grew up on the back of the need for more labour for the mines: previous to this, men would have relied mostly on farming.  The reason that there was no mining in the village itself may be explained by the nature of the strata it is built on: Leedstown stands wholly on killas, a softer sedimentary clay/slate.
How the name was chosen is interesting but we don't know what it was called before the mines opened. The local Godolphin estate is well known for a number of reasons, not least the filming of the first episode of the original Poldark television series. Having given their family name to another nearby village, it wasn't until the Dukes of Leeds married into the Godolphin family that Leedstown was born.  The Fourth Duke of Leeds married Lady Mary Godolphin, daughter of Henrietta, nee Churchill-Godolphin and he assumed the family arms. Through this marriage he not only inherited the estate and all its parcels of land both in Cornwall and farther afield, but also all of the Godolphins' mining assets and mineral rights. The Godolphins are famous for the Godolphin Arabian, (c 1724 – 1753) also known as the Godolphin Barb: he was one of three stallions that founded the modern thoroughbred line.  He was named after his best-known owner, Francis, Second Earl of Godolphin.  More importantly, the Godolphins produced a man who many consider to have been the greatest politician this country has ever known, Sir Sidney, First Earl of Godolphin.  In the late 17th and early 18th centuries, he became, Privy Councillor, Secretary of State and eventually First Lord of the Treasury.  He was a "magician" with figures.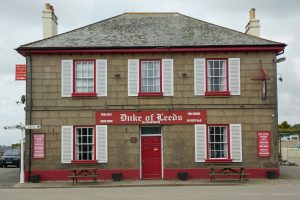 Having put the origins of the village into context, we now take a look at it in more detail.  The writer was born in the late 1930s and at that time the village had even more interesting features than it has today but most of these have been removed in favour of more homes.  These include the coal yard and the carpenter's shop (where my parents had a lovely glass cupboard made when they married).  Also gone is Mr Cyril Williams' quite unique and large incubator and egg packing facility.  Mr Williams was a poultry farmer and would exhibit in national competitions where, I recall, he once won a huge silver trophy.  He supplied not only live, day old chicks, far and wide but fresh eggs on a retail and wholesale basis.  Cracked eggs were free.  His poultry were free range and each hen's eggs were recorded daily, sometimes twice a day. This was done by number-ringing each bird. Every house had built-in nest boxes with outside access that closed once the hen was inside.  An employee would spend most of his day visiting each poultry house (and there were several fields of them) where he would record each hen's results.  Should any hen be considerably behind the average in its laying, it was culled.  This system was known as "trap nesting".  Mr Williams' son has only recently retired from this business.  In case you imagine the workman out in the pouring rain wrestling with a large note pad and pen, let me explain that he would mark the ring number of the bird on the appropriate egg and the rest was taken care of back at the farm office, in the warm and dry.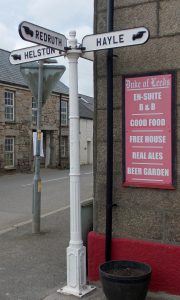 There are at least two other features in the village centre that are unusual if not unique.  One is the village finger signpost indicating the way to places in all four directions.  It is unusual, in that it is the only sign post found in Cornwall designed to be bolted to the ground rather than sunk and then concreted.  It was cast by Toy's foundry at Helston.  Each little hand, with a pointing finger, at the end of each arm is cast in relief and modelled on the hand of a little boy, probably Mr Toy's young son.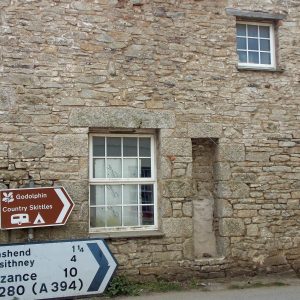 The other feature is rather more insignificant and is hidden away in the side wall of what was Mr and Mrs Glasby's grocer's shop. It can be seen in this photograph and is a tall, narrow recess which in earlier days was the storage point for the shop window shutters. It was well used by the children in the ever popular village game of "hide and seek" that seemed to take place on every occasion that they met.
As I now look back over the early years of my life growing up in Leedstown I have come to realise what an idyllic place it was.  It had a highly respected school that would teach not only the three Rs but also the rights and wrongs of life. You remained there until you reached the age of fifteen unless you passed the 11 plus and went to Grammar School or chose to attend the Technical College at Camborne. The head schoolmaster at Leedstown, Mr Pellymounter, was quite forward looking.  He arranged many outside activities to broaden children's minds.  The floors at school were bare wooden boards and I remember Mrs Hampton, the school cleaner, scattering damp sand across them before sweeping it up with a wide soft brush.  I assume it served to help collect dust.  The school toilets were of the thunder box type and the hand basins were of much buckled aluminium and, when finished with, the contents were thrown onto the sloping floor and into an open drain.  Each classroom was heated by a circular "tortoise" stove which also warmed the free, one-third of a pint, milk bottles for children at playtime.  During my time there, one of the classrooms was converted into a kitchen/dining room and from then hot meals were available.  During the years of the Second World War our school population quadrupled due to the addition of evacuees: local children had a half day at school and the evacuees had the other half.  Smaller children were taught at the Methodist Sunday school.  My parents took in a little evacuee girl called Louise Colleen Gilman.  One day when we were harvesting potatoes for the war effort, she jumped onto the steelyard (1) and then ran towards my father shouting, "Daddy, I've measured and I am ten years old!"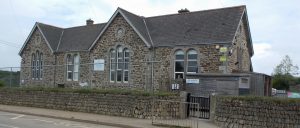 Leedstown Primary School 1878
At the age of eleven I joined my brother, Rodney, at Helston Grammar School. It was the worst thing that ever happened to me. I have always been creative with my hands and was in no way an academic and I still insist that I should have gone to Technical College.  My daily journey to Helston comprised a long cycle ride to Praze-an-Beeble where I joined the train to Helston.  If I was a few minutes late and the train driver spotted me as they passed over the Leedstown Road, he would wait a couple of minutes rather than I should miss the train.
The village had a number of shops including a fully equipped grocers run by Mr and Mrs Glasby. After some time their son Derek gradually turned it into an antique shop and it attracted visitors from all over the country. There was a green-grocer's which one of its owners turned into a general store of household items which was dubbed "Willie White's Woolworths!" The post office traded in very little other than postal matters: it had a huge black vertical screen across the whole of the counter with a tiny hole, just big enough to put your hand through. Mrs Rowlands would squeak at you through this small aperture.  What is equally intriguing are the remains of former trades that were plied in the village.  I remember two in particular: a rundown cobbler's shop where Mr Tom Reed would sprout his potatoes in the windows and, in the same row, the derelict remains of the village butcher's shop.  In my time it had no windows, doors or much of a roof but was a wonderful place to play war games. The biggest attraction of all was Miss Tregonning's sweet shop.  The sweets were weighed out into cornet shaped paper bags which she would delicately twist to seal the top so that you didn't scatter the contents. Liquorice was cut off by the inch.  There, also, mums could buy wool, knicker elastic, cotton and thread, and dozens of other useful items.  Unfortunately, this shop, and to a lesser extent the house adjoining it, experienced a major disaster.  At Binnerton, just on the fringe of the village, there was an American Army camp and in the early hours of one winter's Saturday night an army truck came up from Townshend, missed its way and went straight across the road into the shop.  I have the clear memory of walking to Sunday school and seeing local men picking up small items and blowing the dust off them before carefully placing them to one side.  As unfortunate as this was, I suppose it's fair to say that it was lucky that it was winter time because the cricket pavilion, although a little way out of the village, was immediately made available to Miss Tregonning and to the occupants of the next door house, Mr and Mrs Henry Christophers, to live in until their own homes were once again made habitable. I assume the American government paid for the restoration work.
Leedstown has always had a strong cricket club and for many years it produced two teams.  Their present ground was bequeathed to the club by Mr David Goldsworthy of Truthall Farm and the pavilion was formerly one of the count houses to a local mine.
The Women's Institute was formed in 1919 and in its early days met in a very small, stone-built property which I understand was the first place of worship in Leedstown. By the time the W.I. was formed the building was known as "The Meeting House".  Sadly, and due to lack of persons willing to fill offices, Leedstown's W.I. folded about two years ago and I was honoured but no less saddened to be their guest speaker at their last meeting.
Leedstown was always a "get-up-and-go" kind of place.  It had an annual carnival with lots of participants, an active Sunday school and chapel with the usual parade of witness, tea treat with sports and games for the children and a local brass band to entertain the adults after their customary high tea.  Mum and Dad were charismatic Christians so it was only natural that we should attend the Apostolic Church whilst it existed.  When that closed, we transferred to the Leedstown Methodist Movement.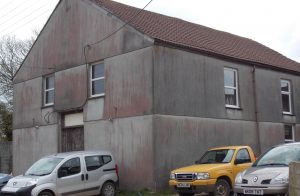 The former Bible Christian Chapel  1837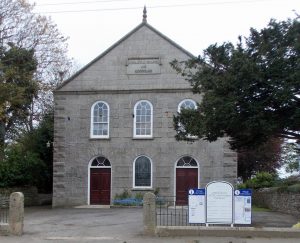 Leedstown Methodist Chapel 1863
One of Leedstown's biggest events was its annual show. There were the usual cattle and horse classes including amateur show jumping.  There were marquees with domestic classes for crafts, cooking and children's classes for all sorts of projects including the biggest variety of wild flowers collected.  Once again, there would be a local brass band in attendance.  In the evening, when all activities in the main ring were concluded, the seating would be turned around and placed inside the rope perimeter for the spectacular and main event of the day: the donkey and shay racing. Mr Allan from down Wheal Alfred way, near Angarrack, would bring several donkeys and shays.  There would be heats and an eventual winner, which was always a donkey called Star.
Like all villages, Leedstown had its ghost and I quote here from "Courtney, Feasts and Folklore, 1890". "The Leedstown ghost runs up and down stairs in the night, and then sits in the corner of the room weeping and sleeking her hair (2). It was the ghost of a young woman who was engaged to be married to a man who refused to become her husband until she gave him certain deeds kept in a box in the above room.  As soon as the deeds were in his possession, he realised the property and escaped to America, leaving the young girl to bemoan her loss.  She went mad. Night and day she was searching for her deeds: sometimes she would sit and wail where the box had been.  At length she died: her spirit however, had no rest, and still constantly returns to keep alive the memory of man's perfidy."  (Revd S Rundle)
Alas I have run out of space but I cannot conclude without mentioning the fact that Binnerton Manor, a lovely thatched farmhouse, has a direct connection with John Wesley.  He preached there a number of times, both outside from the barn steps and indoors in the main hall. Since then, many a Wesley Day service has been conducted there.
Endnotes:
(With thanks to Ann Trevenen Jenkin for the use of excerpts from "Leedstown in Our Time")
A steelyard balance, steelyard, or stilyardis a straight-beam bslance with arms of unequal length. It incorporates a counterweight which slides along the longer arm to counterbalance the load and indicate its weight. A steelyard is also known as a Roman steelyard or Roman balance. (still-yerd in Cornish dialect as spoken by my father)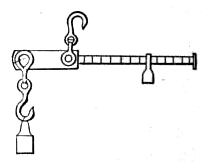 Sleeking – to make hair smooth and glossy.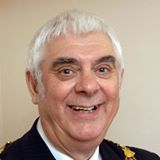 Paul Phillips was born on 26th November 1937, at 2 Elm Cottages, Leedstown, near Hayle and lived there for the first nine years of his life.  He attended Leedstown County Primary School, Helston Grammar School and, at the age of 16, he decided to join the police force. He applied to become a Metropolitan Police Cadet. His application was successful and he spent 17 years in the Met. On his return to Cornwall, the day that the Torrey Canyon hit the rocks off Land's End, he took over a small hotel in Porthleven. To supplement his income, and putting his police driving training to good use, he set up a driving school where he taught approximately 1,000 pupils.  During all this time Paul maintained a fond interest in Cornwall and all things Cornish and today he is the Federation of Old Cornwall Society Dialect Recorder, a post which he is most passionate about. In recognition of his work for Cornish Heritage, Paul was made a Bard of the Gorsedh taking the name Kaffler Rannyeth (Keeper/collector of Dialect).