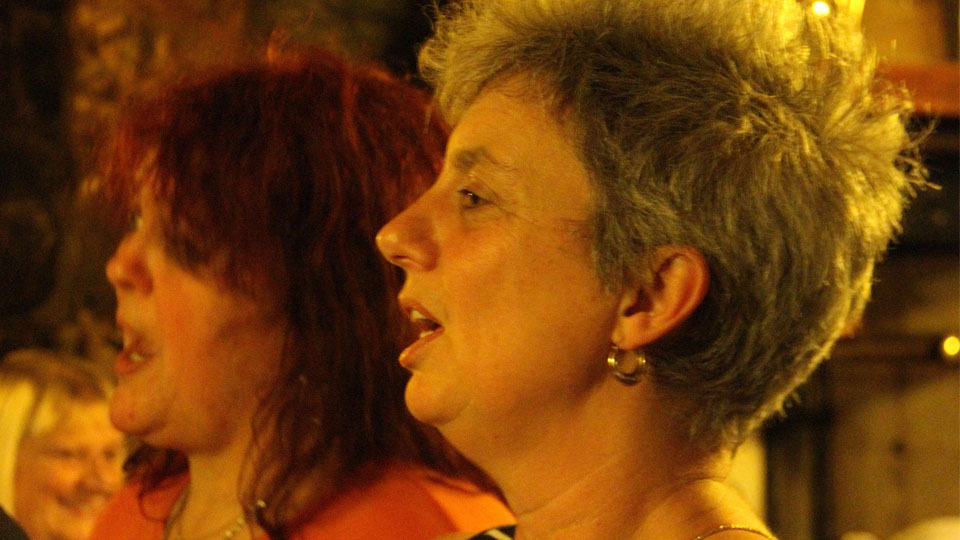 Review: Shout Kernow
September 5, 2015
A review of Hilary Coleman and Sally Burley's Shout Kernow: Celebrating Cornwall's pub songs – a real treat for lovers of traditional Cornish music!
Ever since the rise of such groups as The Fisherman's Friends and all of the other shanty groups in Cornwall, there has perhaps never been so much interest in Cornish songs. Here the musician Hilary Coleman, front-woman of traditional Cornish music group Dalla, and Sally Burley, song enthusiast, have assembled a volume that will be hard to beat. Although there have been various attempts at documenting the 'song' tradition of Cornwall, nothing matches the comprehensiveness and completeness of this new volume.
In many senses Shout Kernow contains everything the general reader needs to know about the song tradition in Cornwall.
Arriving on the shelves a few years after Merv Davey's [volume] Scoots Dances, Troyls, Furrys and Tea Treats: The Cornish Dance Tradition, Coleman and Burley's work here almost acts as a companion to that collection.
Whilst there the focus was specifically on the Cornish dance tradition, here the resolute focus is on song. As one might expect, many of the classic Cornish songs are contained within this anthology ("Little Lize", "Sweet Nightingale" and "Grandfather's Clock"), although many readers will also be intrigued by the less popular and more obscure titles that have somehow survived over the years (for example, "The Old Grey Duck" and "Soldier's Farewell").
Coleman and Burley's view of culture in Cornwall is that it is on-going and developing around us as well, so there is thankfully a good range of more contemporary songs too. Very often of course, particular songs are associated with particular communities, and indeed particular times during the ritual year.
Defining the pub song tradition seems more problematical for Coleman and Burley. Many of the songs here are included because they are simply sung by the Cornish and are part of a continuum of community performance that has been shaped over centuries. More recently this has transposed itself into the so-called 'Shouts' – evenings of pub singing where a number of the songs gathered here might be sung.
The volume has a resilient quality and useful size, with each song given a history of its collection, development, multiple forms and eventual 'crystallization' into the piece known today. With the volume comes two CDs (helpfully encased in pouches at the end of the book) which give live renditions of the songs.
Therefore, the reader/listener can choose to hear these as they leaf through the volume. Such recordings are also genuinely helpful in assisting the listener to learn new songs, and the discs act as a convenient record of what makes these pieces important for the Cornish at the beginning of the twentieth century.
Clearly, Coleman and Burley know the importance of doing this for future generations as each of the songs come with lyrics and music.
The collection is the result of a long-term project begun in 2012, where Coleman Burley started to record and research the song traditions of Cornwall.
It is generously filled with photographs which show much more accurately how the song tradition has been used by the Cornish over time. This is perhaps opposed to many of the misconceptions put forward about some of the songs by the early revivalists, as well as the wider Celtic community (who were sometimes rather dismissive of the Cornish tradition). Not only does this volume offer a correction to those gaps in knowledge but it also demonstrates the range and ambition of Cornish song.
Whether you are an enthusiast or a casual listener, there is much to be absorbed from this book. Coleman and Burley have done the tradition proud.
In 200 years time we will be thankful that their folkloric skills have gathered these important 'fragments'. Let's have a shout about that!
You can purchase Shout Kernow: Celebrating Cornwall's pub songs via the Amazon website.
Dr Alan M. Kent
Dr Alan Kent is a writer, poet, dramatist, teacher and academic and enjoys writing Cornish and Anglo-Cornish literature.